The flagship annual event of Gandhi Smriti and Darshan Samiti of Run for Swasth Bharat – concluded its 14th edition recently at Gandhi Darshan in Rajghat, New Delhi. This was organized in collaboration with HFT or the Health Fitness Trust. HFT was registered in 1994 by the reputed international athlete and Marathoner, Dr Sunita Godara (1992 Asian Marathon Gold medalist). This event is an adrenaline booster for sports enthusiasts and budding artists. It features diverse activities such as bike rides, thematic activities, cycling courses, adrenaline runs, poster making competition amongst others. This event saw the participation of more than a thousand participants and registered a huge turnout.
TFCI (Tourism Finance Corporation of India Ltd.) supports HFT as a part of its CSR Initiative focused on athlete training programme. This initiative is for 5 national, level athletes and 75 athletes for the financial year 2023-24 are trained under the Taekwondo Martial Art training programme.The various dignitaries present at the event included- Dr. Sunita Godara, Founder, HFT, Vice Chairman of Gandhi Smriti and Darshan Samiti, Shri Vijay Goel, and Whole-Time Director, TFCI Shri Anoop Bali. The participants included National level athletes.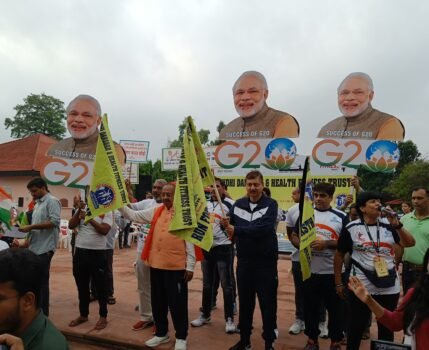 The event was jointly flagged off by Shri Vijay Goel, Shri Anoop Bali Dr. Sunita Godara. The Run for Swasth Bharat offered the choice of three categories for the runners – 10km, 5km, and 1 km, to encourage participation from all levels of runners.
Shri Anoop Bali, Whole-Time Director, TFCI and Shri Vijay Goel, former union minister and Vice Chairman Gandhi Darshan praised this initiative that promotes a healthy way of life and takes cares of both the mental and physical wellbeing of an individual.
The participants too welcomed and praised this initiative.
#'Run for Swasth Bharat #VijayGoel #AnoopBali #TFCI #HFT #HealthyIndia #FitIndia