20 July, 2023:Luminous Power Technologies, a 35-year-old company offering products in the power backup and residential solar segment, including inverters Batteries & Solar solutions recently announced the continuation of LAMP its transformative Luminous Advanced Mentoring program in Haridwar. This announcement was made in association with a non-profit organization Happy Horizon Trust. This will mark the beginning of the second batch of the program which is dedicated to the empowerment of children from poor and financially weak families.
Luminous will provide the essential educational assistance and nurture their potential. This will help in creating a brighter and more promising future for the young individuals. The program will start from July 19th, 2023.
Girls will form a majority of a significant 80% of the second batch in Haridwar which aims to empower 50 more students. These girls will be those who face challenges on account of being school drop outs or encountering social barriers.
Luminous Power Technologies aims to overcome the limiting cycles and embark on creating transformative pathways that lead towards a brighter future for these children from underprivileged section of society.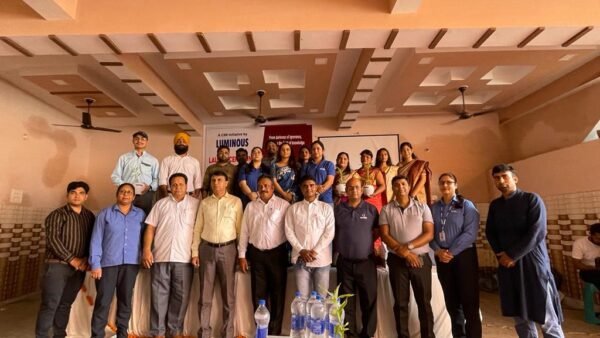 The event saw the presence of esteemed guests. BEO (Block Education Officer) from Roorkee at Mehwadkalan village in the Roorkee area of Haridwar, Aakansha Rathor present on the occasion, emphasized how CSR is considered a burden by corporates, but Luminous has shown genuine interest in supporting education. She added how education was non-gender, caste or social status based, but extremely important in empowering every child. Knowledge works equally or all in shaping their future, irrespective of whether they are from a city or a village.  She also emphasised how attitude and not just aptitude is important to determine the future.
Those present at the launch event from the company, Luminous Power Technologies were – General Manager of Battery Manufacturing at Haridwar, Ms. Smita Kumari, Assistant Vice President HR Mr. Atul Dadhich and Assistant Vice President, Manufacturing Mr. Sudarsan Pillai.  The role of girls in creating a better future for themselves by excelling in almost every field was highlighted at the event.
The LAMP program goes beyond just providing academic support to providing a comprehensive approach that furthers the overall development of the students. This holistic development is very important for the students to thrive in the modern world.
LAMP was established in 2016 and has supported 978 students till date, out of which 700 are young girls. This year's program will expand its reach by inducting 250 students from Gurugam. Haridwar, Gaget, Hosur and Baddi.
#LAMP#Haridwar#LuminousPowerTechnologies#empowerstudents #Aakansha Rathor