10 October, 2023: TVARAN an acceleration program designed to support early-stage women entrepreneurs and augment the presence of women led startups in the field of renewable energy, water and waste management and climate smart agriculture marked its successful conclusion recently.  This announcement was made by Villgro and Cisco India Cash Grant Program.
Former Secretary, the Department of Biotechnology, Ministry of Science & Technology Dr. Renu Swarup, honoured the first group of exceptional startups during the closing event. These included Climate Sense, Swachha Eco Solutions, Green Delight, MOWO Fleet, Green Grahi, KNP Arises Green Energy, and Bharat Krushi Seva
During the event, the remarkable entrepreneurial journey of the startups was highlighted and their outstanding achievements were acknowledged. This also depicted the challenges they faced and overcame. Through this valuable platform they could also articulate their strategies for future expansion and sustained growth.
The six months acceleration program for the start ups saw them receive invaluable support including a 20 lakh rupees financial grant per startup to execute their GTM or Go-To-Market strategies. They were also provided access to CISCO mentors who gave them expert insights into strategic planning and technology. The extensive networks of Villgro and Cisco were also offered to them to help them in commercializing and scaling their ventures. The startups also received support in connecting them with potential venture capitalists and investors, to assist them in securing funding for their innovative ventures.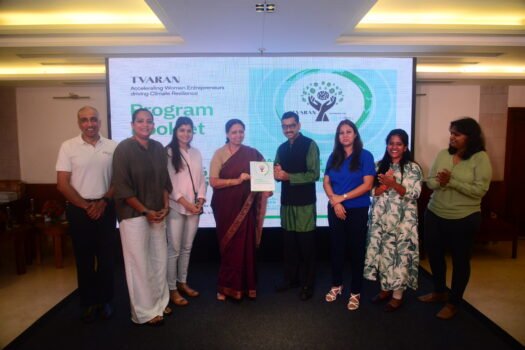 During the six months period, these startups expanded their operations into new geographical areas, registered substantial growth in revenue, secured investments from venture capitalists and were successful in launching commercial pilots of their products by teaming up with various businesses and channel partners.
 Managing Director and Chief Policy Officer, Cisco India & SAARC, Harish Krishnan said that as a technology company they recognized the tremendous potential of digital technology and the transformative impact of data and emerging technologies. He added that throughout TVARAN they observed that the strategic direction of each startup was significantly shaped and meaningful steps taken towards an inclusive future for all.
Manager, Gender Inclusion, Villgro, Kalyani Krishna expressed enthusiasm at the successful conclusion of the program and added that with over two decades of incubation experience they recognized that startups, particularly women led startups required vital support in terms of market connections and access to finance.
#TVARAN #Womenledstartups #startups #HarishKrishnan #KalyaniKrishna #accelerationprogram #earlystagewomenentrepreneurs