News update/Press Release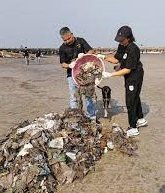 A Sustainable Model of Nutrition for the Specially-abled Children
Living with a disability is a challenge. Living in poverty is a challenge. And so, for underprivileged children with disabilities, life can be unbelievably hard. For them, food and basic survival are far more important than any other parameter. Surviving must precede thriving. For over two decades, we worked to give support in several ways to children with severe disabilities. Our efforts have been focused on children with locomotor disabilities, epilepsy, cerebral palsy, vision difficulties, and those with multiple disabilities. The support we receive from organizations such as Allergan, an AbbVie company, enables us to provide these children with the nutritional and rehabilitative assistance they require to live their best possible life, even during the ongoing pandemic.
Looking after the needs of a child with a disability is emotionally, physically, and financially challenging, and even harder for families that are already contending with poverty. For example, if a child has cerebral palsy, the child experiences muscle spasms and may need to be positioned or seated in a particular way for efficient feeding. In poor homes, parents may not know how to do this, because of which, the child may not be adequately fed. It also takes a lot longer to feed these children, and parents in resource-limited settings may simply not have the time or means to attend to them. Similarly, children with severe (refractory) epilepsy may have difficulties in chewing, swallowing and may frequently vomit or choke, which affects their ability to eat adequately. They also need to take anticonvulsants which can further affect their metabolism. The threat of malnutrition is something these children contend with on almost a daily basis. This is why we see great value in bringing in private sector companies to support our efforts to reduce malnutrition amongst these children.
A sustainable model for nutrition for Children with Disabilities in underprivileged families
Nutrition is indispensable for children's growth, cognitive development, and school performance.  Children with disabilities are a vulnerable group for malnutrition.  Mobility India has developed a sustainable model to provide nutrient support for these children who are living in underprivileged families. In 1999, we started our work in the urban slums of Bengaluru. Currently, we work in 12 Bruhat Bengaluru Mahanagara Palike (BBMP) wards and 35 slums in Bengaluru South and Northeast BBMP zones to provide nutritious food for 160 children. We started by training Community facilitators and SHG members to make nutritious food for children with severe disabilities. From 2012, we worked with a group of women, who themselves had children with disabilities. We taught them how to make a homemade high-protein, vitamin and mineral-rich powdered supplement that was then distributed once a month to families with children with disabilities. The parents simply had to add water to the powder and feed it to their child. The powder was made of all natural ingredients such as wheat, ragi, pearl millet, corn, moong dal, chickpeas, groundnut, and jaggery. About 22 Community Education Centre teachers monitored the growth chart of these children quarterly, and now the self-help group members do it.
So far, over 1000 children have benefitted from this program. Children with disabilities find it easier to consume food in this form without any compromise on nutrition quality, while the women who make this supplement also have an additional means of livelihood. Our investigations have shown that the supplement has helped to improve overall health, reduce vitamin deficiencies, address anemia, improve eyesight, improve development skills, and reduce secondary deformities. We also found that the parents were better informed, had fewer medical expenses, and were better able to take care of the children.
It has been reported that in general, NGOs often create successful innovative and empowering services but find it challenging to scale them up and maximize reach. So far, we have been able to expand this model, thanks to the support we have received from corporate organizations such as Allergan, an AbbVie company. We believe it is our collective responsibility to care for these children and give their families the means and provisions to help them, and through collaborative partnerships, we can ensure that no child is left behind.
For more information contact Albina Shankar, albina@mobility-india.org