12 July, 2023: An agreement to implement the project "Holding Hand in Magical Years: Early Childhood Development & Neurorehabilitation Centre." was signed between the Hans Foundation & Centre of Excellence and Advanced Research for Childhood Neurodevelopmental Disorders, Child Neurology Division, Department of Pediatrics AIIMS.
This project will focus on the developmental delay and other neurodevelopmental disorders for approximately 10,000 -12,000 beneficiaries per year, covering children and adolescents.  AIIMS, inside the AIIMS campus will render technical and monitoring support to The Hans Foundation that will be implementing the project. Through this novel multidisciplinary initiative, children will be provided with the facilities that will help them reach their full development and potential based on their capabilities.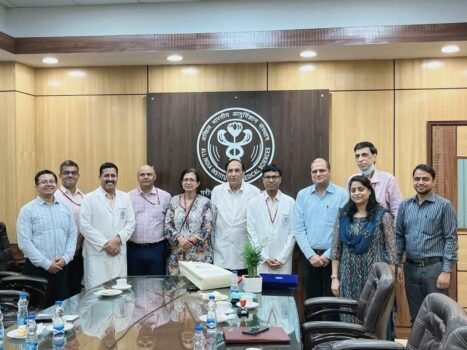 The current overall prevalence of neurodevelopment disorders (NDDs) is approximately 12 %, out of which one fifth of them have more than one NDD. Lack of identification and treatment of approximately 45% of children with NDDs make them prone to a high developmental risk.
CEO, The Hans Foundation, Mr. Sandeep J Kapur, commenting on the collaboration said that they were committed to empowering the lives of disabled people and through their holistic interventions, would help them in leading independent and productive lives in their communities. The "Holding Hand in Magical Years" initiative through its state-of-the-art facility will screen and help in early identification and detection of developmental delays and disorders like Cerebral Palsy, Autism, ADHD (Attention Deficit Hyperactivity Disorder) and SLD (specific learning disorder.) in children. Supportive services and multidisciplinary care would then be offered so that people with disabilities too can lead a meaningful and dignified life.
This joint effort of THF and AIIMS will have Prof Sheffali Gulati as the nodal officer from AIIMS for this project.
Director, AIIMS Professor M Srinivas, said, that the services provided will be customized as per the need of the child. This would include a complete assessment and evaluation in a holistic manner. The multidisciplinary services comprise speech and language services, diagnosis and treatment, nursing services, counselling and training for the family, physical therapy, nutrition services, psychological services, and occupational therapy among others. Additional support services such as assistive aids through ADIP scheme of THF, handy tools for parents for home based interventions, training of caregivers, and so on will also be provided.
This MoU was signed on 1st July 2023 at AIIMS, New Delhi, in the presence of representatives from AIIMS and The Hans Foundation.
#AIIMS #TheHansFoundation # Early Childhood Development # Holding Hand in Magical Years #MSrinivas #ProfSheffaliGulati #SandeepJKapur #ADHD #SLD #Autism #Cerebral Palsy #peoplewithdisabilities