A project to raise awareness about the wastage of food and hunger challenges in India was introduced by Asahi Kasei (a leading Kitchen Solutions brand from Japan and Akshaya Patra Foundation a non-profit organization.
This initiative supported the noble cause of feeding school children through "Wrap Up Hunger With Asahi Kasei." The aim was to make a meaningful impact by reducing the food wastage and eradicating classroom hunger with the provision of nutritious midday meals to underprivileged children. These wholesome meals were a part of the Akshay Patra Foundation's Mid-Day meal programme.
Most Indian households discard food items like extra chapatis, leftover sabzi or curry, or vegetable peelings in the dustbin. This in turn puts pressure on the waste management system, leads to food deprivation and contributes to pollution.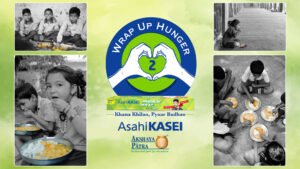 The United Nations India has indicated that 4 out of 10 children are not meeting their full human potential because of chronic undernutrition. As per the UNICEF and the Global Health Database, 33% of children in the country are suffering from malnutrition, which is cited as a primary reason of poverty and inequality. Along with the reduction of food wastage the importance of helping fight malnourishment amongst the underprivileged children of India is also highlighted by this data. The #WrapUpHungerWith AsahiKasei tackles the twin issues of food wastage and classroom hunger. More than 91,000 underprivileged children over the previous season were fed 3 meals with the assistance of 1600 participants in the #WrapUpHungerWith AsahiKasei initiative. They are gearing up for season 2 after the phenomenal success of season one. 
Sr Marketing Manager, Asahi Kasei India, Mr. Luve Oberoi, while commenting on this initiative said that food was one of the most crucial pillars of survival. He was happy that they could do their bit through this initiative of giving back to society. He was happy that they had partnered with The Akshay Patra Foundation.  
Chief Sustainability & Communication Officer, The Akshaya Patra Foundation, Mr. Anant Arora mentioned that a healthy meal is not a privilege or luxury for many. The objective of the Foundation was to eliminate classroom hunger and counter malnutrition amongst children form underserved communities.
# Asahi Kasei # Akshaya Patra Foundation #Wrap Up Hunger #fightingthefoodfight #malnutrition #classroomhunger #eliminatingfoodwastge #LuveOberoi #AnantArora