Encapsulating Globe Toyota's Commitment to Sustainability and Corporate Responsibility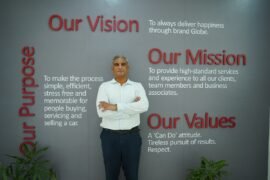 By Vivek Datta, MD-CEO, Globe Toyota, A JCBL Group Company
At the JCBL Group, our diversified interests are deeply rooted in the automotive and manufacturing sectors. It is this very diversity that forms the cornerstone of Globe Toyota's unwavering commitment to corporate social responsibility (CSR), sustainability, and our overarching pledge to excellence and innovation. In a broader context, this commitment extends across all of our esteemed Toyota dealerships in India, where we steadfastly uphold our core values of excellence, sustainability, and corporate responsibility, thereby shaping the ethos of our entire organization.
Our Commitment to CSR and ESG Initiatives
The ESG certification of our Ludhiana dealership serves as a resounding testament to our steadfast commitment to CSR and ESG (Environmental, Social, and Governance) initiatives. Our ESG strategy spans the full spectrum of sustainability, encompassing environmental responsibility, social contributions, and sound governance practices. We are dedicated to minimizing our environmental footprint through measures such as enhancing energy efficiency, reducing waste, and managing resources responsibly. Simultaneously, we actively support CSR endeavors in fields like education, healthcare, and community development, ensuring a lasting positive impact on local communities. Our pursuit of ESG certification underscores our profound dedication to sustainability and responsible business practices, demonstrating that CSR and ESG initiatives are catalysts for positive change both within our organization and in society at large.
Transition to LED Lighting
Our transition from CFL to LED lighting within our facilities stands as a tangible reflection of our strong commitment to energy conservation and eco-friendly practices. This shift substantially reduces our energy consumption and enhances our environmental sustainability.
Collaboration for Reforestation
Globe Toyota has partnered with select NGOs to address the critical issue of forest regeneration. We carefully choose partners who share our values, provide funding, involve local communities, and diligently evaluate progress. Our long-term commitment extends to educational programs and raising public awareness to drive sustained, positive environmental change.
Optimizing Energy Efficiency
Energy efficiency is at the heart of our operations at Globe Toyota. We invest in energy-efficient equipment and implement intelligent building management systems. We harness solar panels for renewable energy, introduce water collection systems to reduce water consumption, and conduct regular energy audits to drive continuous improvement. We also actively promote employee awareness to enhance energy conservation and cultivate a sustainable culture.
Solar Energy Utilization
One of our standout initiatives involves the successful implementation of solar energy solutions at our Karnal and Ambala offices. This achievement empowers us to operate our facilities using clean, renewable energy, thereby reducing our environmental impact and decreasing our reliance on traditional energy sources. We are wholeheartedly dedicated to adopting clean and sustainable energy methods that support environmentally responsible management and a sustainable future.
Wastewater Treatment Plant (ETP) Recycling
Globe Toyota efficiently manages its Effluent Treatment Plant (ETP) to treat wastewater generated during our operations. This is a crucial process for several reasons:
Environmental Compliance: ETPs ensure that Globe Toyota complies with environmental regulations by treating industrial wastewater, removing harmful pollutants, and reducing our environmental impact.
Resource Conservation: Recycling water through ETPs reduces the need for freshwater, contributing to essential water conservation efforts, especially in water-scarce regions.
Cost-Effectiveness: Effective ETP management reduces water consumption and disposal costs. Recycled water can be used for non-potable purposes, reducing the need to purchase additional water.
Sustainability: ETPs align with our sustainability initiatives and underscore our commitment to responsible water management, environmental impact reduction, and community well-being.
We employ advanced processing techniques, continuous monitoring, and regular maintenance to ensure optimal ETP performance and environmental compliance. This approach not only promotes environmental protection but also saves resources and supports sustainable operations.
Key Milestones for CSR and ESG
In our CSR and ESG journey, Globe Toyota has achieved significant milestones in areas such as:
Environmental Responsibility: We have implemented environmentally friendly practices and reduced our carbon footprint through sustainable operations and the adoption of renewable energy.
Community Impact: Our active involvement in local communities through philanthropy, educational support, and employee volunteerism has improved the quality of life for many.
Ethical Management: We adhere to strong management practices, emphasizing transparency and ethical management of the supply chain.
Diversity and Inclusion: We are committed to promoting a diverse workforce, inclusive policies, and gender and racial equity initiatives.
Innovations: We invest in sustainable technologies, engage in research and development of environmentally friendly products, and integrate ESG factors into our business strategies to contribute to long-term sustainability and growth.
Balancing Sustainable Development and Business Goals
At Globe Toyota, we have seamlessly integrated sustainability into our business and product development, aligning our commitment to sustainability with the objectives of the automotive industry. We invest in green technologies, use resources efficiently, involve stakeholders, and strive to meet our customers' demand for eco-friendly cars. We remain law-abiding and work diligently to establish a trustworthy presence in the auto industry.
A Vision for the Future
We envision ourselves as pioneers driving the automotive industry towards a future defined by sustainability and corporate responsibility. Our unique vision encompasses forward-looking eco-friendly technologies, a circular economy, collaborative partnerships for growth, carbon neutrality, openness, community involvement, multiculturalism, supply chain responsibility, diversity, and inclusivity.