21 October , 2023:Hindustan Coca-Cola Beverages (HCCB) an  FMCG company has partnered with Y4D foundation to facilitate a multi-faceted program in Maharshtra which will empower 5,500 individuals through upskilling. Various community development initiatives in 14 villages in Lote, Wada and Pirnagut were also announced by the company.
Shri Devendra Fadnavis, Hon'ble Deputy Chief Minister of Maharashtra wss present at the launch of this initiative by the company at the India Moment Conclave that was hosted by the Y4D Foundation in Pune.
Out of the 5,500 individuals, HCCB will equip 3,000 women with crucial financial and digital literacy skills. An exhaustive Sales and Marketing certification programme will be offered to 2,500 youth as training. Transformative developmental projects will also be ushered in across 14 villages in Pirangut, Wada and Lote. The focus areas will be access to clean drinking water, plastic waste management, sustainable agriculture practices, Nagrik Seva Kendras ( NSK) and education infrastructure.
The fundamental concepts like Banking Basics, Account Opening procedures, Unified Payments Interface (UPI) training, Investment Guidance, Net Banking, and information on various Government Schemes for women such as Sukanya Sam Riddhi Yojana Nari Shakti Beti Bachao Beti Padhao, will be covered in the financial literacy training.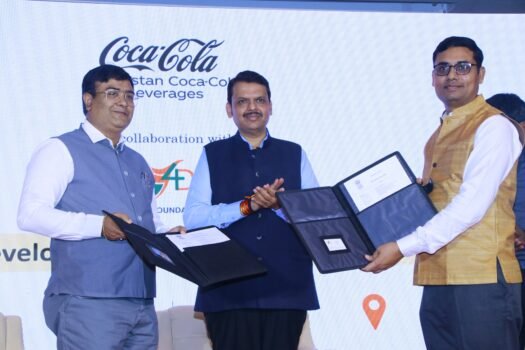 The digital literacy will cover Mobile Banking, Digital Market Linkage, and Cyber Safety and Security to help these women with the necessary tools needed to succeed in the digital era. 
A classroom-based format training in identified locations nationwide will be conducted. The beneficiaries will be identified and group training will be imparted. A diverse range of participants will be included in the sales and marketing certification program. It will be structured over 3 months and will consist of a comprehensive 30 hour curriculum. This will include face to face as well as online sessions.
Hon'ble Deputy Chief Minister of Maharashtra Shri Devendra Fadnavis while commenting on this initiative said that he was of the firm belief that community and industry growth should be intertwined and HCCB's initiatives further reaffirmed this conviction. He envisioned a Maharshrtra where every individual thrived regardless of gender or background with the necessary tools and opportunities 
 Chief Public Affairs, Communications and Sustainability Officer Mr Himanshu Priyadarshi  said that they recognized the pivtal role of the industry in bolstering the socio-economic landscape. Their multi dimensional upskilling programmes would brodge the gender disparity in the digital and finaicial fields by providing the youth with the requisite sales and marketing tools needed to excel in the modern fast evolving business landscape.
#upskillingprogrammeforyouth#empoweringyouthinMaharshtra#HCCB #Y4DFoundationPune#DevendraFadnavis#HimanshuPriyadarshi  #digitalliteracy#financialliteracy #womenempowerment #womenliteracy