Radico Khaitan Limited not only excels in producing quality spirits but also actively engages in various corporate social responsibility (CSR) initiatives. The company demonstrates a commitment to societal welfare through a range of campaigns that promote women empowerment, health and hygiene, art and culture, and sports and fitness. Here's a summary of some of their notable CSR campaigns and initiatives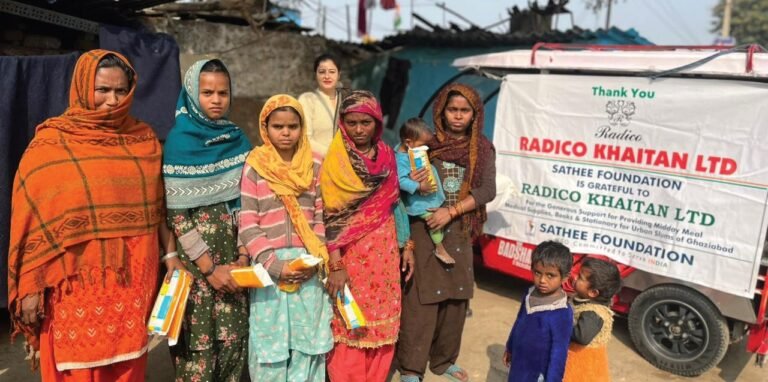 Women Empowerment: Sathee Foundation Collaboration: Radico Khaitan partners with the Sathee Foundation to empower women by providing them with vocational training and skill development opportunities. This enables them to gain financial independence and contribute to their families and communities. Children's Education and Nutrition: Sathee Foundation Children Education and Nutrition Campaign: Radico Khaitan, in collaboration with the Sathee Foundation, focuses on enhancing children's education and nutrition. This initiative aims to improve access to quality education and proper nutrition for underprivileged children, ensuring their holistic development.
Women Health and Hygiene:
SheWings Foundation Collaboration: Radico Khaitan collaborates with SheWings Foundation, a global initiative, to raise awareness about breastfeeding and breast milk among working women. This campaign strives to create a supportive environment for nursing mothers in the workplace and to promote better health and well[1]being.
Promotion of Art and Culture:
World Dance Day: Radico Khaitan supported Natya Vriksha to celebrate and promote World Dance Day, contributing to the promotion of Indian dance forms and cultural heritage.
Society's 'Saare Jahan Se Accha' Dance Extravaganza:
The company partnered with Utsav Educational & Cultural Society to support cultural events that enrich the community's artistic experiences. Radico Khaitan aided a mesmerizing dance extravaganza curated by Padma Shri awardee Ranjana Gauhar. The event showcases the beauty of Indian classical dance forms and artistic expression. Khajuraho International Film Festival: Radico Khaitan Limited proudly associates with the Khajuraho International Film Festival, reaffirming its commitment to promoting art and culture on a global platform. This collaboration underscores our belief in the transformative power of cinema to transcend borders and connect hearts. By supporting this prestigious festival, we contribute to the celebration of diverse cinematic expressions, fostering cultural exchange and creative dialogue. As a company deeply rooted in heritage and tradition, we recognize the importance of nurturing artistic endeavors that enrich our society's cultural tapestry. Through our partnership with the Khajuraho International Film Festival, we aim to amplify the voices of filmmakers, ignite conversations, and inspire audiences worldwide, thereby cultivating an environment that appreciates and values the arts. Promotion of Sports and Fitness: Cyclothon in Association with Asian Hospital: Radico Khaitan collaborates with Asian Hospital to organize a cyclothon, promoting a healthy and active lifestyle among participants. Bikeathon in Association with Dainik Jagran INEXT: The company partners with Dainik Jagran INEXT to organize a bikeathon, encouraging fitness and outdoor activities. Rampur Doubloth on Half Marathon and Cycling Event: Radico Khaitan, in association with Hindustan Newspaper, organizes the Rampur Doublothon, a combined half marathon and cycling event that promotes fitness and community engagement. 59th National Inter State Seniors Athletics Championships: We proudly partnered with the 59th National Inter State Seniors Athletics Championships, demonstrating our unwavering dedication to promoting sports and athleticism. By supporting this prestigious event, we aimed to provide a platform for athletes to showcase their talents, dedication, and determination on a national stage.
Water Restoration:
Art of Living – Water Restoration Campaign (Bhujal Shakti Project) : Radico Khaitan Limited embarked on a vital mission to address water scarcity and ensure sustainable groundwater levels across approximately 451 villages in the Rampur district of Uttar Pradesh. The initiative was designed to revive and rejuvenate dried-up water sources, bolster water conservation efforts, and alleviate the adverse impacts of water scarcity. Through collaboration with regional stakeholders and VYAKTI VIKAS KENDRA INDIA (VVKI), Art of Living, valuable knowledge and support were garnered. As a notable achievement of this endeavor, the groundwater table in Saidnagar experienced marked improvement, reaching a "Safe" status. Similarly, Chamraua and Shahabad witnessed a transformation from "Over Exploited" to "Semi Critical" groundwater levels within just one monsoon season. Through these initiatives, Radico Khaitan actively contributes to various aspects of society, encompassing women's empowerment, children's education and nutrition, promotion of art and culture, and the encouragement of sports and fitness. These activities reflect the company's commitment to making a positive impact on the lives of individuals and communities.
Protection of Environment:
Radico Khaitan Limited took active strides towards a greener future through our Tree Plantation Drive and "Say No to Single-Use Plastic" campaign, conducted in collaboration with the Utkarsh Foundation. With a deep commitment to environmental stewardship, we planted trees to restore our ecosystem and combat climate change. Concurrently, our campaign against single-use plastic empowered communities with knowledge on sustainable alternatives through engaging workshops. By joining hands with the Utkarsh Foundation, we advocate for conscious choices that safeguard our planet, fostering a harmonious coexistence with nature for generations to come. DISCLAIMER: The information contained in this message (including any attachments) is confidential and may be privileged. If you have received it by mistake please notify the sender by return e-mail and permanently delete this message and any attachments from your system. Any dissemination, use, review, distribution, printing or copying of this message in whole or in part is strictly prohibited. Please note that e-mails are susceptible to change. Radico Khaitan Limited (including its group companies) shall not be liable for the improper or incomplete transmission of the information contained in this communication nor for any delay in its receipt or damage to your system. Radico Khaitan Limited. (or its group companies) does not guarantee that the integrity of this communication has been maintained or that this communication is free of viruses, interceptions or interferences.