18th October, 2023: A day long workshop –  'The Indian Collaborative for Applied Sustainable Solutions' (ICASS ) was recently organised by The Nature Conservancy Centre (TNCC) and was backed by TATA Trusts. A diverse group of sustainability practitioners came together to address critical gaps in the science -policy practice interface to ensure an effective sustainability implementation. The focus of the discussions were 20 ICASS initiatives and related case studies.The management of elephant colonization in Madhya Pradesh, regeneration of oak forests in Sikkim, the restoration of riparian areas along the Narmada River basin featured here.  These efforts coupled with the landscape level management of the Great Himalayan National Park Conservation Area and promotion of green urban infrastructure were focused on providing prompt, robust solutions to policy and practice challenges in sustainability.
A collboration among scientists, policymakers and practioners to bridge the Science, Policy and Practice gap with a view to encouraging engagement, innovation, co-production and capacity building was fostered by ICASS with the backing of Tata Trust.
Tata Trust supported the initial phase of ICASS which showcased its substantial potential in the country. A 100+ experts from TNC and partner organizations dedicated over two years to gathering evidence through Working Groups and field pilots for potential solutions.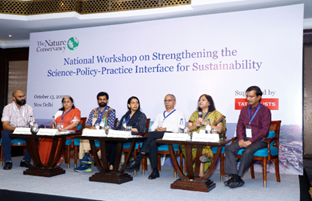 Managing Director, TNCC Dr Annapurna Vancheswaran  while inaugurating the workshop said that policy framing had always been a complex issue that influenced efficient management of limited resources to achieve effective results. She went on to add that evidence based policy framing to address climate change challeneges and sustainable development goals should not be underestimated. If the scientific evidence was robust the necessary policies to optimize resources and achieve results would be stronger.
The inaugural session and launching of policy briefs was attended by  Honorary Professor at the Centre of Ecological Sciences, Indian Institute of Science Prof R. Sukumar, Chairman Karmayogi Bharat and former CEO&MD Subramanian Ramadori , RR Rashmi, IAS (retd) Tata Consultancy Services; and Distinguished Fellow in the Centre for Global Environmental Research in TERI and Dr Ashok Khosla, Chairman, Development Alternatives, a member on numerous national and international Think Tanks in the environment sector.
Dr Ashok Khosla delivered the keynote address.
Amitanshu Choudhary from the TATA Trusts expressed his appreciation at  the launch of the 10 policy briefs and expressed how his organisation was happy to support such endeavours of TNC.
Dr Sushil Saigal, Director of Programs at TNC delivered the closing remarks.
#TATATrusts #TNCC #Effective sustainabilityimplementation #optimizeresources