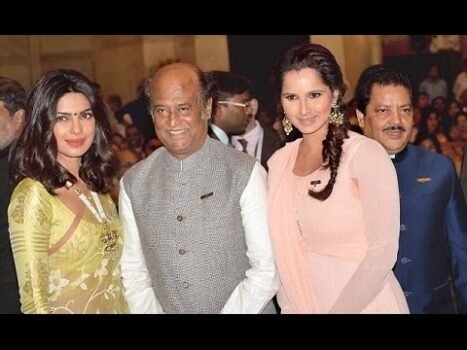 Rajinikanth, Sania Mirza, Priyanka Chopra honoured with Padma Awards
Superstar Rajinikanth, tennis icon Sania Mirza, former US Ambassador Robert D Blackwill and actor Priyanka Chopra were among the 56 eminent persons who were honoured with Padma awards today, on Tuesday, April 12, 2016.
Former DRDO chief V K Aatre, chief editor of Telugu daily Eenadu Ramoji Rao, philanthropist and educationist Indu Jain, chairman of Maruti Suzuki India, R C Bhargava, singer Udit Narayan, eminent lawyer Ujjwal Nikam were also honoured with the Padma awards by President Pranab Mukherjee at the Civil Investiture Ceremony held at the Rashtrapati Bhavan.
Rajinikanth, Aatre Rao, renowned vocalist Girija Devi, chairperson of Cancer Institute, Chennai V Shanta were given Padma Vibhushan.
Bhargava, Jain, Blackwill, Mirza, Narayan, Manipuri playwright Heisnam Kanhailal, noted Telugu and Hindi litterateur Yarlagadda Lakshmi Prasad, teacher of Vedanta Dayananda Saraswati (posthumous), leading sculptor Ram Vanji Sutar, Ideologist N S Ramanuja Tatacharya and International head of Chinmaya Mission Swami Tejomayananda were honoured with Padma Bhushan.
Chopra, Nikam, former President of Editors Guild of India Dhirendra Nath Bezboruah, renowned novelist from Karnataka S.L.Bhyrappa, Pondicherry-based social worker Madeleine Herman de Blic, president of Bodo Sahitya Sabha Kameswar Brahma were among the 40 eminent persons who were given the Padma Shri.