28 June, 2023: Smaaash Fun Gateway Arena Private Limited, a  provider of immersive entertainment, recently collaborated with Khushiyaan Foundation, an  NGO that is dedicated to the welfare of underprivileged children, Smaaash has hosted a one of its kind event today as a ;part of this association. This allows 36 children in the age group of 7yrs-17yrs who are associated with Khushiyaan Foundation to enjoy thrilling facilities and games at the facility.
Smaaash creates a unique and unforgettable environment, for visitors of all age groups. Smaaash has an extensive range of cutting edge virtual experiences. It also has interactive games, and attractions that are engaging. It creates a unique and unforgettable world for visitors irrespective of their age.
The aim of this initiative by Smaaash is to bring smiles and moments of joy to the children. They will also be encouraged to explore the world of entertainment in a safe and exciting way.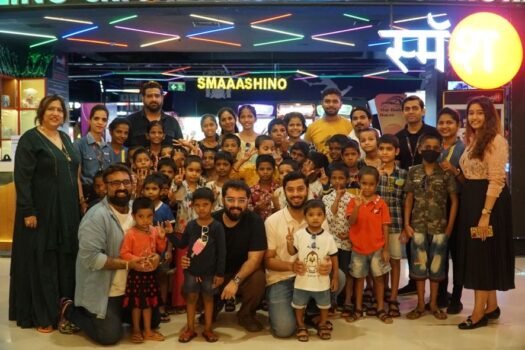 Consulting CMO, Smaaash Fun Gateway Arena Private Limited, Mr. Avanish Agarwal said: that he was very proud and happy at this initiative of hosting underprivileged kids. Their aim he said was to foster joy, peace and prosperity in the lives of the children. He said that witnessing their smiles and pure enthusiasm was a priceless feeling. He said they were focussed on providing a meaningful impact in the lives of the underprivileged children. He said that empowering the community and the needy was the need of the hour. The bond that was created with the children during the day according to him was priceless. He said that every child regardless of their background needs a chance to thrive and succeed. The power of compassion, inclusivity and empathy had a transformative power.
He went on to add that investing in the well-being of our community and empowering those who needed it the most was important.
Khushiyaan Foundation focuses on the education, healthcare, and overall development for the betterment of underprivileged children. This experience would open a whole new world of entertainment for them and also promote recreation as an essential part of their growth.
  Khushiyaan Foundation Founder Dr. Chinu Kwatra, said that they were immensely grateful to Smaaash Fun Gateway Arena Private Limited for the support lent and their generosity.  A special mention was made of Miss Archi Solanki and Mr. Avanish Agarwal for facilitating this opportunity for the children and providing them this indulgence which brought great joy for them. This also went a long way in their overall well being.  This association created a positive change in society and provided access to quality entertainment for the deprived children. This collaboration promoted happiness, a sense of belonging and holistic growth through the power of collective efforts.
# Smaaash Fun Gateway Arena Private Limited # Khushiyaan Foundation # Dr Chinu Kwatra # Avanish Agarwal # NGO # Underprivileged children # quality entertainment