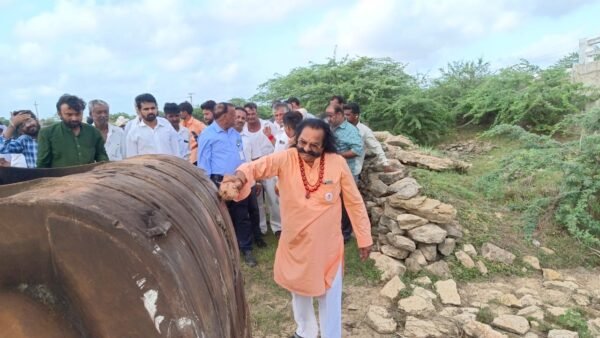 27 July ,2023:Water logging issues had been plaguing the farmers of the Nageshwar and Goriyali villages in Gujarat. This issue has been addressed jointly under the Sujalam Sufalam Yojana by the Tata Chemicals Society for Rural Development (TCSRD) and the Gujarat State Irrigation department. This state-wide water conservation initiative has provided support to construct a drainage channel that is 3.3 km long. Approximately 350 farmers with farmlands across 300 acres have benefitted from this project. An excavation of 35 farm ponds in 20 villages within a month, increasing the water storage capacity by 9 million cubic feet to support irrigation spread across 880 acres of agricultural land has also been undertaken by TCSRD.
Prior to the drainage project, the farmers of these villages were struggling to grow crops due to the water logging during the monsoon months. Their annual income was low due to the annual crop yield being low. The successful completion of the drainage project will help farmers make maximum utilization of their land, improve their lives and boost their incomes.
Chief Manufacturing Office, Tata Chemicals, N. Kamath said, that for farmers in Nageshwar and Goriyali water logging had been an impediment and the weather unpredictability with changing rain schedules had made the situation worse. Their TCSRD team he said had initiated the draining project and helped resolve the long standing issue. He expressed his gratitude to the state irrigation department for their support. The project he said, took them 6 months to complete. The farmers are now empowered and can now use their previously waterlogged lands that are now primed for cultivation all through the year. This is a game changing initiative and will boost the farmers' income significantly and pave their way for a prosperous future too.

#TataChemicals #drainagechannel #TCSRD #GujaratStateirrigationdepartment #waterconservationinitiative #NKamath