27 th October, 2023: A new sport challenge, "The She Run – Race with the Titans" was announced by Gujarat Titans in partnership with Stepathlon. This 30-day digital fitness challenge, will empower women by promoting health and fitness amongst them. This initiative is in addition to the earlier one, Race with the Titans in 2023.
This new initiative which will commence on the 16th November 2023, is supported by the Gujarat Titans team and will focus on inspiring women of all age groups and fitness levels to adopt a lifestyle that is healthier and fitter.
 'The She Run' is being led by Stepathlon and their fitness experts will provide a varied range of workouts carefully tailored to suit varying fitness levels.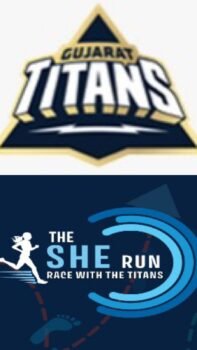 This challenge is not restricted to specific work out slots only, but it also creates an awareness about integrating movement into one's daily life. The Titans FAM App and the franchise's social media platforms provide access to this challenge. Participants can register and also monitor their progress as well as stand a chance to win exciting prizes and obtain certificates of completion. Registrations are open from today the 27th of October 2023. This initiative while championing the cause of good health and fitness in women also encourages active engagement in sports. It builds on the earlier one which received an overwhelming response,
COO of Gujarat Titans, Col. Arvinder Singh mentioned that at Gujarat Titans they were passionate about contributing to the community and their core values were dedicated to creating memorable experiences. He went on to add that there were 200,000 registrations in their previous Race with The Titans which was a remarkable success. Gujarat Titans is committed to helping women embark on a transformative journey of better health and fitness.
Founder and CEO of Stepathlon Ravi Krishnan, added, that they were delighted to partner with Gujarat Titans who are pioneers and custodians of the health of cricket fans in India through their Race with the Titans initiative. With this new initiative with Stepathlon they will now extend their position to everyone across the country. This he added will create a positive impact on the well being of women and their families and will also foster fitness among the community.
#TheSheRunRacewiththeTitans#GujaratTitans#Stepathlon #womenempowerement #fitness #health #RaviKrishnan #ArvinderSingh #RacewiththeTitans