24 August, 2023 – The NCRTC – National Capital Region Transport Corporation, which is a joint venture company of the Govt of India and the States of Delhi, Haryana, Rajasthan and U.P, and is functioning under the administrative control of Ministry of Housing and Urban Affairs is organizing Skill development programs for farmers. The farmers living in the districts of Ghaziabad and Meerut will be educated on modern agricultural techniques. Under this training initiative, a team of agricultural experts are teaching farmers new methods of modern agriculture. In the initial phase of the programme various villages like Nangla Moosa, Bhud Baral, Khadarabad, Sahapur, Asalat Nagar, Kakra, Sara, Kanoja, and Sikrikurt in Ghaziabad and Meerut districts will be included.
Through this program apart from raising awareness, NCRTC plans to enhance skills and impart training on the latest agricultural techniques to modern farmers. Modern and protected agriculture techniques such as hydroponics have been taken up by agricultural scientists to train the participants on.
Aquaculture, or water culture agriculture another term for Hydroponics is the method of growing crops by using only nutrients and water. This environment friendly technique requires lesser water than the traditional field grown crops and results in water saving and conservation.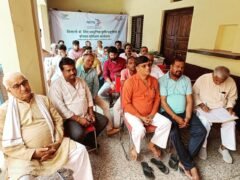 The farmers also received guidance on how to increase their earnings via hydroponics and protected cultivation techniques during the training programme. The heavy dependance of traditional agriculture on weather conditions can result in crop failure due to unfavorable climates. This modern technology can help minimize the adverse weather impact on crops.
The series of training programmes includes a total of 104 training sessions. Approximately 1500 farmers living in 52 villages thar are situated along the Delhi – Ghaziabad – Meerut RRTS corridor will be included for the training. The farmers will get an opportunity to avail these skill development programmes to enhance their skills.
The construction of the Delhi-Ghaziabad-Meerut corridor is progressing as per the plan, and NCRTC is planning to commission the entire corridor by the year 2025. Prior to that, the 17km long primary section will be operationalized for the public this year.
#NCRTC #DelhiGhaziabadMeerutCorridor # Farmerstraining #Hydroponics #aquaculture #skilldevelopment programmes #modernagriculturetechniques