21 September, 2023: Mumbai based OSCAR Foundation, a community-based Sports for Development (S4D) has announced a tour to the United Kingdom, the fourth so far, for underprivileged children. The 15-day tour to the UK on the 1st October 2023, will see the participation of 10 girls and boys from the underserved communities of Mumbai. The Foundation is also sending 2 girls form Jhunjhunu, Rajasthan and 4 children from Karnataka from its villages near Yadgir. The selected children will participate in a cultural exchange programme and also play friendly football matches with school students in Europe.
The power of football is being used by The OSCAR Foundation to equip children with skills to make them future ready and resilient. They also aim to use this to encourage children to stay in school. Since 2010, the foundation has empowered 15,000 children and youth from the low-income communities in India through football, life skills education, and Young Leader programmes.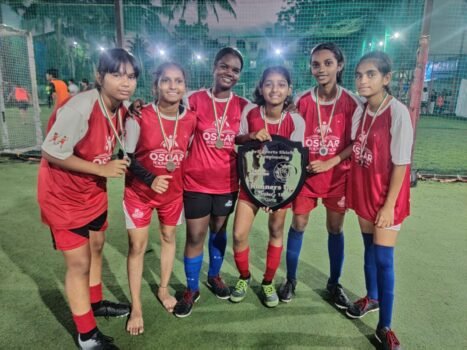 Founder, OSCAR Foundation, Ashok Rathod, while commenting on the UK Tour said, that they strongly believed in the transformative power of sports and their football and life skill programme bore testimony to that. This programme apart from equipping the children to acquire necessary skills also motivates them to play football and enhances their academic growth. The UK visit will give them International exposure as well. Their mission he added was to inspire young individuals from the economically weaker sections of society to help them create a better future.
Since the establishment of the OSCAR Foundation 107 youth and children have already travelled abroad for tournaments and exposure visits to many countries including the UK, Denmark, Spain and USA. The prestigious Dana Cup Tournament was won by the girls' team  . This year will mark the 4th visit after a host of successful visits in 2017, 2018, and 2019.
The OSCAR UK tours have in the past witnessed the presence of eminent personalities, such as World Cup Winner Juan Mata, Arsenal legend Tony Adams and HRH Sophie, the Duchess of Edinburgh. The tours have had a life changing impact for Sagar, Rakesh, and Omkar alums of 2017, Priya of 2018 Anita of 2018 who went on to receive scholarships and   recognitions at The National and International levels.
#OSCARFOUNDATION #OSCARUKTOUR #Underprivilegedchildren #UnderprivilegedYouth #AshokRathod #communitybasedsportsfor development #lifeskills #football