24th July, 2023:WRI India, an independent charity legally registered as the India Resources Trust, focuses on working towards a low carbon economy and building sustainable and liveable cities. WRI India launched its initiative, ACAAS or the Accelerator for Clean Air Action. The launch took place at the flagship event of WRI India – Connect Karo 2023. This initiative is supported by Bloomberg Philanthropies, Open Philanthropy and Clean Air Fund. The air quality management practices of ten cities will receive technical support from this accelerator.
 ACAAS will help the participating cities of Mumbai, Jalandhar, Pune, Agra, Gorakhpur, Vadodara, Indore, Surat, Ahmedabad and Chennai through this program. The technical support will go towards helping the cities build data based understanding, local capacity and clean air action planning. They will also be offered a platform for engaging with critical stakeholders to drive informed policy making, assist in project preparation as well as on-ground implementation.
One of the leading environmental health risks worldwide is air pollution. National level action is needed regularly for air pollution related issues faced by many Indian cities.
In 2019, NCAP or the National Clean Air Program was launched by the Government of India. This aimed at reducing particulate matter through air quality management plans that were city specific. Cities that fall short of the National Ambient Air Quality standards (NAAQS) or cities that are categorized as non-attainment, for 5 + years in a row – are eager to implement state level actions that are aligned with the NCAP. The Clean Air Actions Accelerator will not only support city and state level plans but will also help in improving the monitoring and outcomes of urban areas.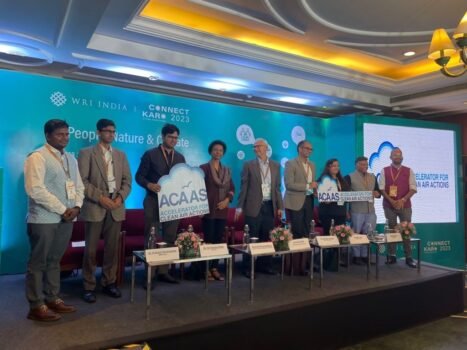 Chairman, WRI India & Chairman and Managing Director, Godrej & Boyce Mr. Jamshyd Godrej said that when we see the AQI in our major cities skyrocketing it is only then that air pollution becomes an important subject. This awareness fades away, hence we need to use real time monitoring coupled with enabling public access to data to raise this awareness. People are eager for this real- time data.
Priya Shankar of Bloomberg Philanthropies mentioned that at Bloomberg Philanthropies, they have been happy to work with Indian cities on initiatives that support the National Clean Air Program. For the implementation of long term air quality solutions, support is needed by cities for developing local capacity, gaining access to evidence and technical analysis, as well as opportunities that assist in learning from each other. With the help of the Accelerator the reach to more cities in India will be expanded. Cities play a major role in improving the quality of life of its residents by achieving cleaner air.
Program Officer, South Asian Air Quality, Open Philanthropy Dr. Santosh Harish was of the opinion that poor air quality had a substantial public health burden in India, and it was difficult to mitigate it due to the number and variety of sources responsible.WRI had an impressive track record of working successfully with state and local governments in Gujarat, in the design and implementation of pollution abatement policies and he was optimistic of a replication of this model for other parts of the country with this initiative.
Country Lead, India, Clean Air Fund, Ms. Mugdha Jain opined that the Indian cities, especially those along the Indo Gangetic plains, faced acute air pollution. This was detrimental to the environment, the economy and human health. Large-scale air pollution mitigation actions she said were crucial for thriving cities and economies. Joint efforts, and coordination of stakeholders in the ecosystem, including state and local governments, technical experts and civil society organizations can go a long way in enabling the actions towards improvement of air quality.
Madhav Pai CEO WRI India explained that cities need to develop their internal capacities around air quality tools and technical resources as well as ensuring smooth collaboration among various stakeholders. The aim of ACCAS was to address air quality changes through a research driven and solution centric approach.  Among cities that WRI India has been working with to improve the air quality, a comprehensive clean air action plan under NCAP has been developed for Surat. The focus is now on Indore to help implement air pollution mitigation solutions. These experiences and their research will be leveraged to shape the outcome of the Accelerator for Clean Air Actions, he added.

#CleanAirActions #Accelerator #ACCAS #Lowcarboneconomy #sustainableliveablecities #WRIINDIA #ConnectKARO2023