Project KEEP drives Collective Action in Waste Ecosystem of Pondicherry On World Oceans Day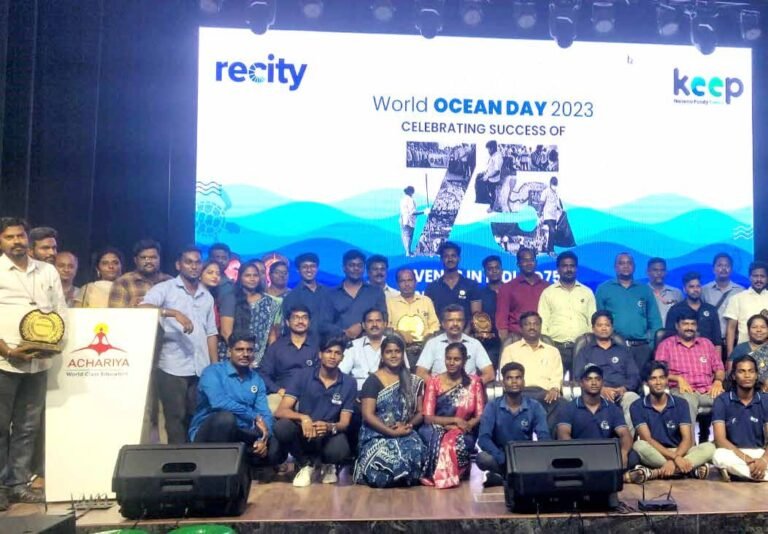 The successful completion of 75 events during the 75th anniversary year of India on the occasion of World Ocean Day was announced by Project KEEP Namma Pondy Clean and Pondicherry Municipality. Pondicherry is being envisioned as one of the cleanest coastal cities on India. A campaign to conduct 75 events for the next 12 months was launched last year on the 15th of August. The objective of this was to inspire collective action in the waste ecosystem of Pondicherry. The early completion of 75 events was held at Achariya Auditorium, Thengaithittu on June 9th. The dignitaries present on the occasion were Mr. Sakthivel, Director, LAD, Mr. Lakshminarayan, Minister LAD, Mr. Mutthamma, IAS, Secretary, Science & Technology Department and Mr. Sivakumar, Commissioner, Pondicherry Municipality.
A total of 65 stakeholders of the waste value chain were felicitated. These included all those who had contributed to the success of this campaign, comprising – elected representatives, government departments, schools, non-profit organisations, and local communities. Mr. Sivakumar in his address said, that true to the theme of the World Ocean Day, project KEEP had exemplified how "Tides are changing" in Pondicherry. He added how overwhelming it was to see the growth in public participation and behaviour change which got a fillip from the sustainability initiative which were very crucial for sustainable and efficient waste management systems. He reaffirmed his department's commitment to sustaining this momentum that was brought about with this initiative. The funding for this project has been done by Godrej Consumers Products and Recity Network has implemented it. The statistics are encouraging. Project KEEP has been successful in diverting 300 MT waste from landfill. A total of 61,000 + property units, along with 50+ schools, and 600 + waste workforce of the city has been engaged over the past three years. The objective of Project KEEP has been to achieve circularity in plastic waste and strengthen the existing waste infrastructure. A sanitation park which is also known as the dry waste collection centre has also been set up Mr. Sivakumar, Commissioner, Pondicherry Municipality, by Project KEEP. The operational daily processing capacity of dry waste is 4 tons. Sustainability Head, Godrej Consumers Pvt. Ltd. (GCPL) Ms. Ahona recounted the three-year journey of Project KEEP and said there was immense potential in the solid waste generated in India, and this could well be an economic gold mine. The processing of this waste, however, was a responsibility that is shared by all.
Recity includes residents and local municipalities, and there was a shift in the collective perspective of viewing waste as a nuisance to a reservoir that had untapped opportunities. The highlights of Project KEEP were in fostering scientific waste management inf rastructures, providing safety and dignity to sanitation workers and enlightening citizens about waste segregation. Ms. Meha Lahiri, CFO, Recity Network too echoed the same sentiment and said that it was their pleasure to be partnering with GCPL and making a positive contribution. The mission centred around ensuring that plastics were kept in the economy and not in the environment. The city has witnessed the smooth functioning of waste generators that were well connected to the state -of –the- art waste processing infrastructure. Project KEEP had indeed worked untiringly towards keeping the city clean. Awareness events, clean ups, dissemination of information, education and communication materials or IEC were included during the campaign. Stakeholder outreach meetings too were organised. Training on health, hygiene, safety at workplace, technology literacy, financial literacy, medical camps were organised for the formal and informal waste workforce. Project KEEP has recorded over 50 clean ups in the city and has a work force of 470 formal and 130 informal waste workers.
Project KEEP an initiative supported by Godrej Consumer Projects and implemented by Recity Network focuses on developing resilent models of waste management in Pondicherry that are inclusive and contextualized. The awareness campaign, has a raise to call action – 'Keep – Namma Pondy Clean' this envisions making Pondicherry the cleanest coastal city in India.