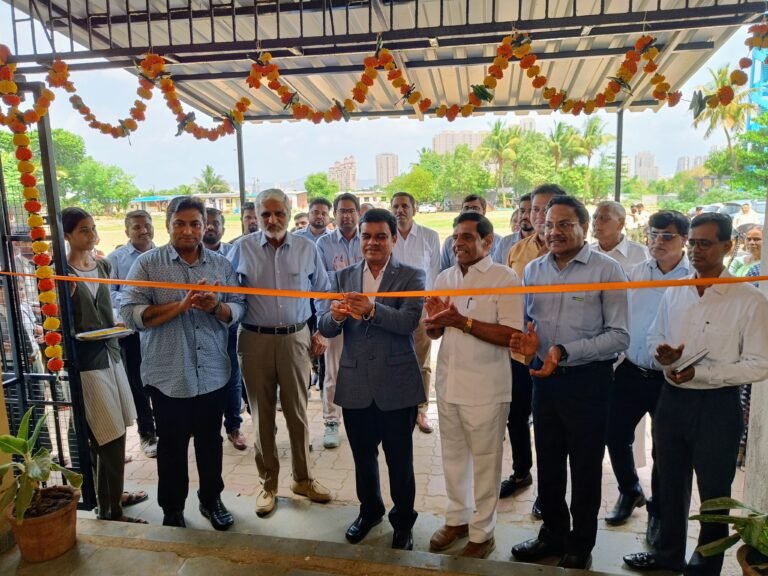 20 June, 2023: RDC Concrete, an Indian ready-mix concrete manufacturer, announced Project PEUSC (Promoting Education for Underprivileged School Children) which is its latest initiative. Students from deprived sections of society from all over India, that includes over 70 similar schools will be supported in their education through this project.  RDC Concrete is attempting to go beyond the traditional CSR efforts through this project which is aimed at creating a positive impact in the communities where the company operates. This project aims at engaging employees actively so that meaningful connections can be fostered with the school students.
The renovation of Ganesh Vidyalaya, in Kharegaon, Kalwa near Thane, was undertaken. This is a semi- government school for underprivileged children. The school had inadequate infrastructure which was resulting in the children facing various health issues. RDC Concrete upheld the importance of safe and hygienic learning environment by introducing this project. This was initiated ahead of the monsoons. The critical infrastructure needs were addressed and RDC Concrete installed a 1500 litre water tank.  This ensured a steady and safe clean drinking water supply flor the students there. Water purifiers that were installed enhanced the water quality and further safeguarded the health of the students. Safety measures likes these will be crucial in preventing water borne diseases.
Apart from water issues, RDC Concrete also paid attention to other crucial issues like repair of the existing desks, procurement of new ones to create comfortable seating. Attention to essential amenities like these go a long way in contributing towards a conducive learning environment, which fosters a healthy growth and development for the child.
Mr. Anil Banchhor, MD & CEO, RDC Concrete said That the initiative showcased RDC Concrete's efforts in supporting the country's growth by supporting this sector and providing a better infrastructure and learning environment. Through this project they were able to step into the educational domain to provide the students of the underprivileged strata of society with the basic and essential amenities that were a pre requisite for their growth and development. He further added that RDC Concrete through small initiatives like these aims to play a transformational role by helping students build a bright future not only for themselves but the country too. In a bid to encourage employee participation the company has decided to incorporate an Employee Engagement – CSR component into the Key Performance Indicators (KPIs) of each employee. This initiative will encourage the employees to visit students in the designated school that is located in the range of less than 5 KM of its plant premise and interact with them and  also spend quality time with them.
An inauguration ceremony to mark the completion of the project was held on June 20. This was a well-attended event with Chief Guest Shri Nand Kumar Verma IAS Ex- Additional Chief Secretary, Mr. Anil Banchhor, Managing Director & Chief Executive Officer of RDC Concrete, Head of Human Resources and Business Excellence at RDC Concrete Dr. K. S. Bhoon, &, Regional Business Head Mr. Adnan Khan.
# Education # underprivileged children # RDC Concrete # Anil Banchhor # infrastructure development # school renovation # water purification # health and hygiene # Education # Nand Kumar Verma